Does your pre-event registration system work with your other systems?
Looking for an onsite, online check-in system?
Need an event app that can do virtual, hybrid and in-person simultaneously?
---
Live & in person
Virtual
Hybrid
The events platform for all three scenarios
Whether you are hosting a live, in-person event at a venue, hosting a virtual event for attendees all over the world, or you are catering for both audiences, Involved can handle it all and our technical teams will handle all the stress to ensure a smooth experience.
Fully brandable to make it feel like your platform and not just a basic app with a logo in the corner.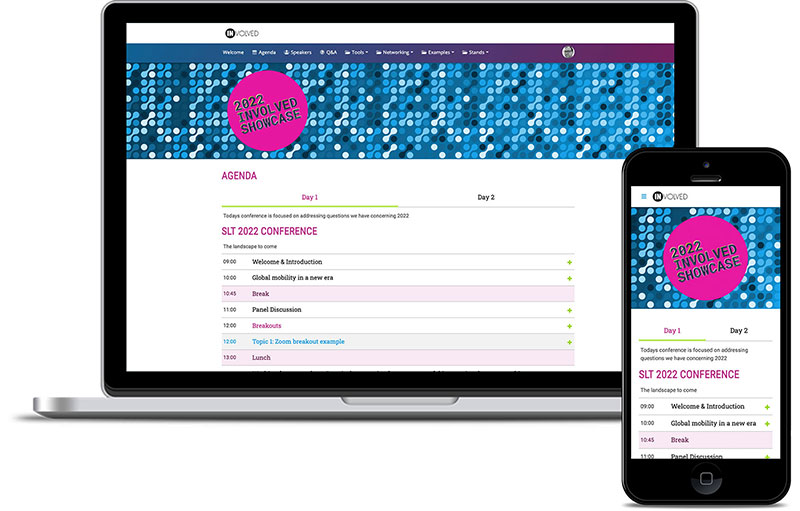 ---
YOUR INVOLVED
EVENTS
JOURNEY

Select the parts of the journey you would like us provide support for and we will adapt the platform to your event's needs
---
Phase One:
Online
Registration
A fully branded registration page
You provide us with the information that you would like to capture and your branding and our team will build your event's registration form.
You can ask a mixture of text based and multi choice questions and once complete a branded email can be sent to the attendee confirming their registration and a calendar link can be included.
A link can be embedded in the email to allow them to edit their registration details if required.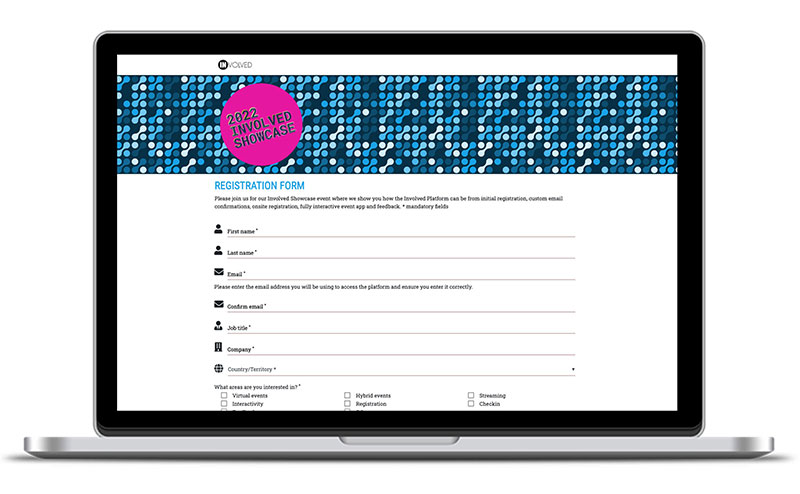 ---
Phase Two:
Involved
Pre-event information
Full brandable and mobile responsive application
The Involved events platform is the built off the back of 25 years' worth of conference experience.
It can be opened and made available over a time scale that suits you or your client. In addition to agenda, speaker bios and a whole host of interactive tools, the platform also features a CMS to allow us to host all the additional pages you require to share with you attendees.
For hybrid or virtual events, live streams can be embedded into the platform or simply made available on-demand.
The platform can also be purely used as a pocket guide booklet for incentive events showing attendees all the key information about their trip.
---
Phase Three:
Onsite
Check-in
A fully branded check-in app
Our check-in app runs on mobile phones, tablets and laptops. Each user can see a list of all the attendees, finding them is a simple case of search for their name, scroll to them in the alphabetical list, or scanning a QR code that can be made available in the confirmation registration email or in the Involved events platform.
All devices stay in-sync with each other so everyone can see how many attendees are yet to arrive.
We also have a VIP notification system so when VIP clients arrive, a SMS notification can be sent to the person looking after them.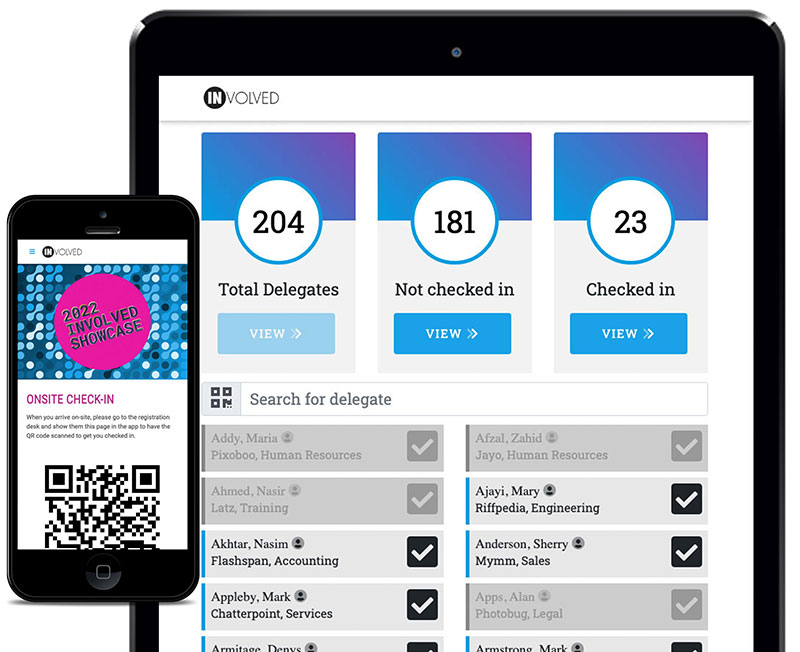 ---
Phase Four:
Involved Events
The live platform
Live streams for virtual viewers / mobile app for in-person attendees
Involved has been designed to allow the streams to be embedded directly into the platform for virtual viewers so that the page splits with the stream on the left and the platform on the right. This allows attendees full access to every page on your events platform.
In-person attendees run the platform on their mobile devices and have access to all the content.
As all parts of the platform run for all users, in-person and remote users can get involved in polling, Q&A, messaging and video chat.
---
Phase Five:
On demand, feedback
and reports
Just because the event is over doesn't mean the work is done
On demand is the perfect way to allow people who couldn't attend your event still be able to experience it.
The best way to find out how your event ran is to ask the audience. With Involved extensive feedback tools, feedback can be collected in different ways. At the end of each session, or at the end of the day or event. Feedback forms can even be made available post event.
Involved's extensive set of reports, allows you to see exactly what pages were visited, who watched the streams, who asked the questions and a whole lot more.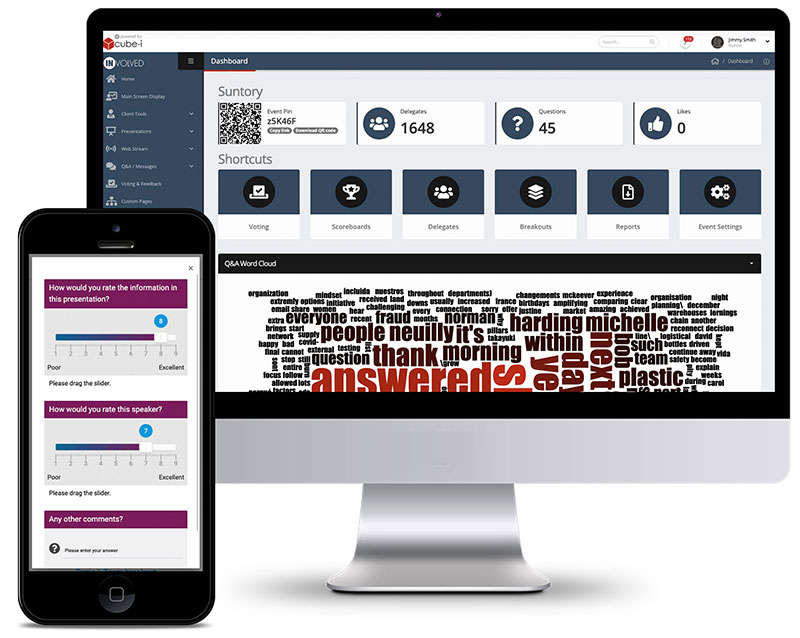 ---
Additional services:
Video streaming
and vMix
Are you looking for hosting a video stream with a little more pizzazz than Zoom or Teams?
Our vMix system allows you to create TV production quality video streams, with picture in picture effects you can have your speaker and slides on a branded background.
Multiple speakers can be shown on the screen at the same time and our technicians can ensure we cut between the speakers just as you would during a live TV interview.
We can take these streams and send them out either as a viewable only stream, or we can embed the stream into a Zoom call so that you audience can engage with your live panel and speakers.
---
Additional Services:
Interactive
voting keypads
For interactive events where you don't want an app
Sometimes, you aren't allowed to capture any client details or you know your audience won't want to install and app, but you still want to engage with them, then interactive keypads are the perfect solution.
To respond to a poll, attendees just need to pick up a keypad and press a button, so there no need for any registration or log in system.
The polls are embedded into your PowerPoint presentation and have the following features
Multi choice questions
Ability to text in questions
Quizzes and team quizzes with scoreboards
Demographic breakdowns (ie Doctors, Nurses, Consultants)
Detailed post show reports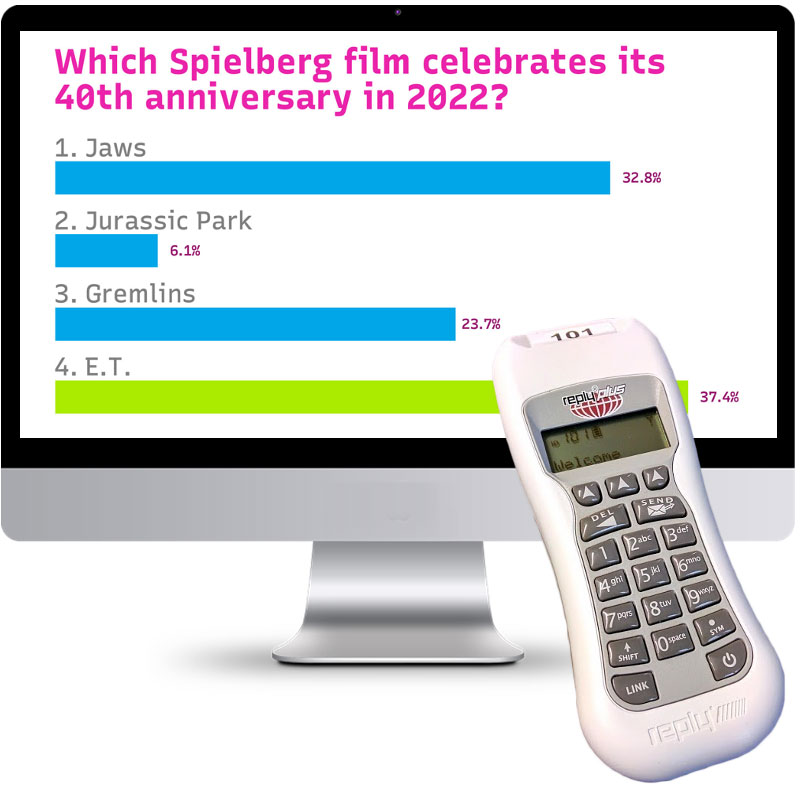 ---
Additional Services:
Bespoke
applications
If you need an interactive screen, we have an interactive solution
Here are just a few of the interactive systems we have built to help solve our clients needs:
Live scoreboard
Live feedback showing instant results on a second screen
Giant tablet resource library
Interactive content app while attendees are waiting to play a game
Data capture and quiz for exhibition stands
Bespoke judges score card iPad solution feeding to a live scoreboard
Multi-language feedback forms
Silent auctions system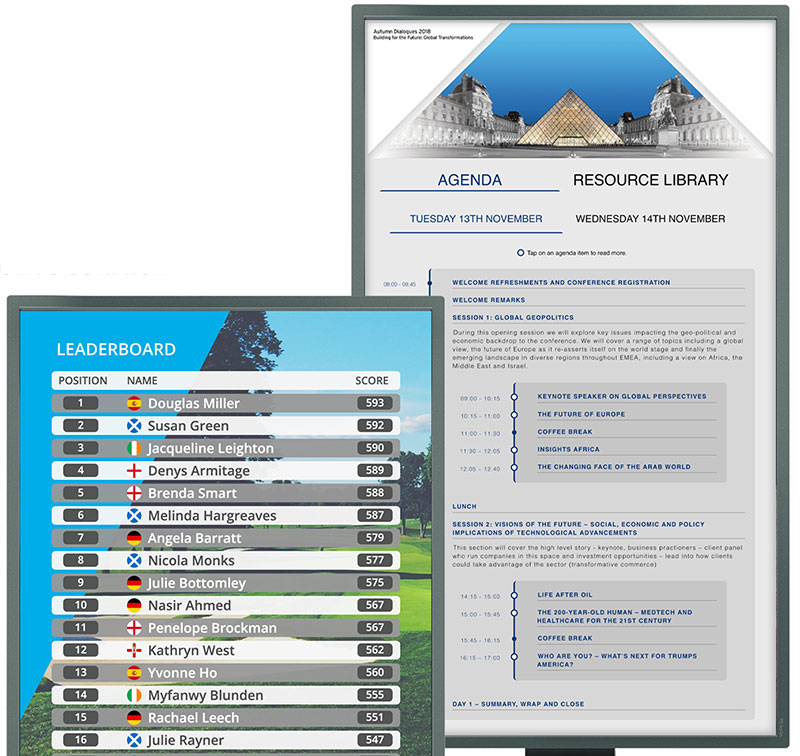 ---
A few of the companies we have worked with
---
What people have to say about us and our team
Thank you so much for all your hard work on the Leadership Summit. I totally appreciate how much you let us push out the timelines, come up with last minute requests and change the scope of work involved. I know this adds extra hours and more pressure. Thank you for your creative solutions and calm approach.
Wanted to say a big thank you to you both for making the event such a success. We were all working under great (and late night) pressure to keep to timings but we pulled it off and it was very well received.
The silent auction raised almost 4 times what I expected it to, that's almost wholly down to yourselves and the accessibility and straight forward usage, plus appeal of the iPads. Thanks also for being so easy and amenable to deal with, especially with all the last minute changes, the speed of your response to every enquiry was perfect when time started to run out - well done.
We'd like to say a huge thanks to everyone involved in our recent excursion to Barcelona. There were some long/late hours for everyone and your hard work went a long way to creating a successful event. We both look forward to working together again in the near future.
I just wanted to say a big thanks from me in helping to make the conferences run really well in each location over the past couple of months. I know it's our jobs, but it was made all the much more enjoyable and smooth having you all there. All the bosses are super pleased with how things went, so a pat on the back is well deserved! I hope we get the opportunity to work together again.
We have worked with Cube-i for a number of years now, and their service has always been exceptional. Their approach to building client relationships is perfectly aligned to our own, with a desire to exceed exceptions, take on board ideas and continually develop their service offering.
We have used their iConnect iPad system to facilitate table discussions at a series of events with one of our clients in particular, and each year we have given them a new challenge, which they have always met. We would have no hesitation in recommending the team at Cube-i!
Our customers loved the Cube-i technology, and so did we! It became immediately obvious that we could no longer hold another meeting of this type without the support of Cube-i. Our next global meeting is being held later in 2017, and we are looking forward to working with you again and exploiting even more of the features of the Cube-i technology.
Thank you for all you did on the live days with us – and your tremendous work getting us ready. You've made a really positive contribution to our event
I just wanted to drop you a note to say a huge thank you for all your support and help during the Leadership Summit – you are always so helpful, so patient and so professional we couldn't have done it without you.
Address:
Unit 34 Celtic Court
Ball Moor
Buckingham
MK18 1RQ
United Kingdom